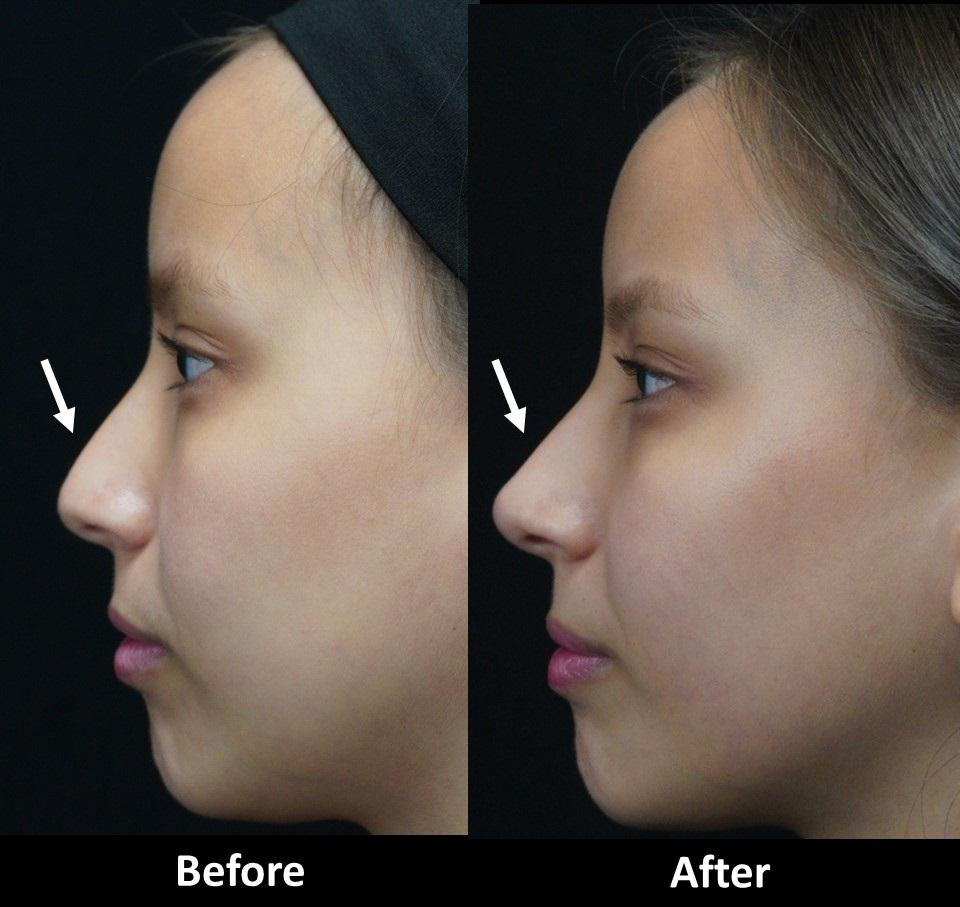 Have you heard about the Non-Surgical Nose Job? Keep reading to learn more.
What is a Nose Job?
A traditional nose job, also known as rhinoplasty, is a surgical procedure for the nose. It can be done for cosmetic reasons to improve the external appearance of your nose. It can also be done for functional reasons to address structural changes to improve your breathing. With any surgery there are risks associated with anesthesia and there is usually a prolonged recovery treatment. However, surgical options generally give the best and longest lasting results.
The Non-Surgical Nose Job is a procedure that takes just a few minutes and has a short recovery time. Dr. Alex uses Voluma, our most popular filler, to enhance the appearance of your nose. By placing small amounts of filler in the nose, a number of concerns can be addressed. One of the most common concerns is a hump on the nose. In these cases, the filler is placed above and below the hump to give the nose a smoother appearance. A frequent question is whether it will make the nose look bigger since it adds volume. This makes intuitive sense but the amount that is used is so small that it doesn't make it look much bigger. In fact, the smoothness becomes much more apparent than the size of the nose. Some people have a flat bridge to their nose. In these cases, the product can be added to that area to make the bridge look more structured and narrower. In the case of the patient shown here, she was concerned with a droopy tip of her nose and a lack of projection. The product was added just above the tip to lift it and project it forward. With a small amount of product, a huge change can be seen. This improves a person's appearance and also their self-confidence.
With any injection there are risks such as pain, bleeding, bruising, infection, redness, swelling, and tenderness. We take special precautions to minimize these. We numb the area with numbing cream and cool the area to make it comfortable. A vibrating distractor is used for further comfort. We use special cleansing solutions to minimize the risk of infection and we send you home with anti-bruise pads. These contain arnica and decrease the risk of bruising and swelling. For the Non-Surgical Nose Job, Dr. Alex uses special syringes with tiny needles. This decreases pain and most importantly decreases the risk for side effects. With the small needles, it is much harder to push the product into your skin. This makes the injection much slower and decreases the risk that it gets into a blood vessel.
The nose is an advanced area for using fillers. Most people are familiar with fillers placed in other areas such as the lips or cheeks. But because of the anatomy of blood vessels, you have to be more careful in the nose because there is a higher risk of serious side effects like death of the skin and even blindness. Dr. Alex performs the Non-Surgical Nose Job very slowly and meticulously. Also, patients wait in the office for approximately one hour after their Non-Surgical Nose Job. This is because you can usually see signs of serious side effects in the first hour. One of the most important things is that Dr. Alex uses Voluma. In Voluma the active ingredient is hyaluronic acid. The advantage of hyaluronic acid is that it is relatively easy to dissolve if there is a side effect. Other fillers such as Radiesse or Bellafil are difficult if not impossible to dissolve. We are excited about a new filler that will be available soon called Juvederm Profile which is another step up from Voluma.
 The benefit of any treatment with a filler like Voluma is that you'll see your results right away. Depending on the product, the person, and the location, fillers can last for a few months to two years or more. For examples, fillers usually don't last as long in your lips as in other places because of the amount of motion when you eat, speak, breath, etc. But in the nose, you don't have these kinds of movements so the results of your Non-Surgical Nose Job can last a year, two years, or maybe longer.
Dr. Alex has performed over 10,000 cosmetic treatments with many satisfied patients. Contact us to schedule an appointment for a free consultation with Dr. Alex in our Encino, CA office.