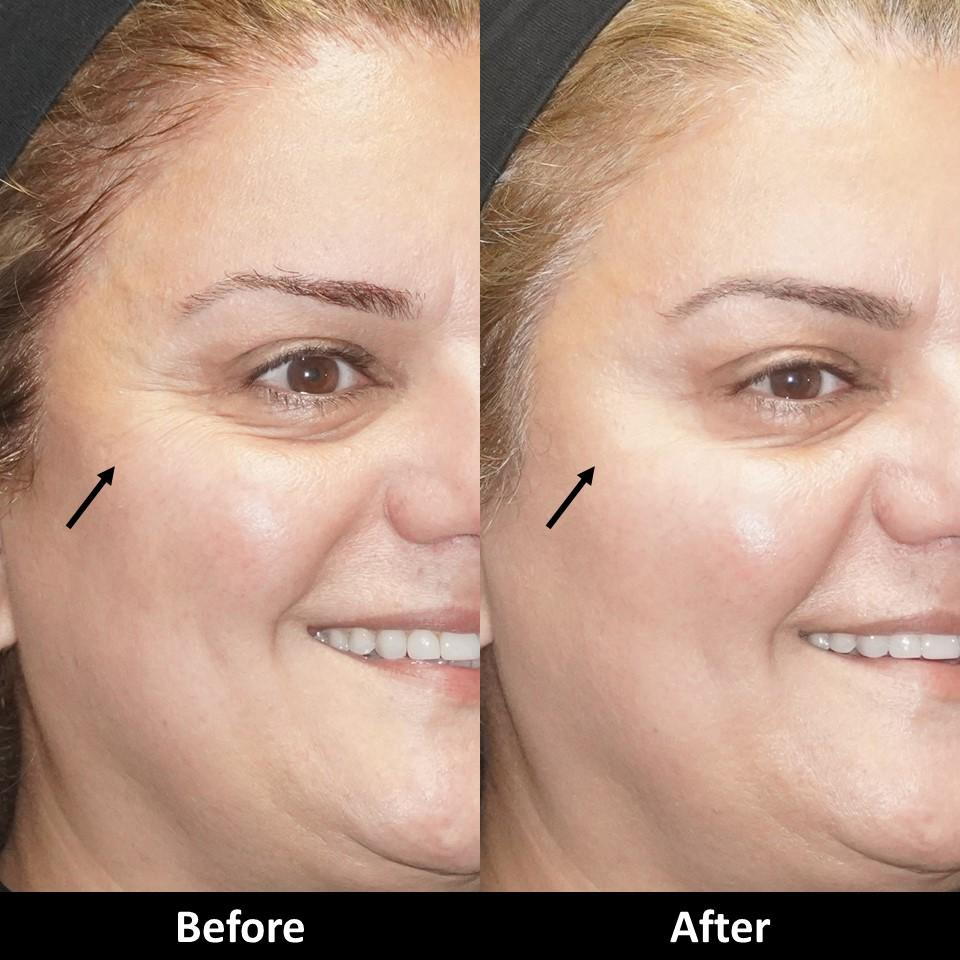 If you need Botox treatment in the Encino, CA area, look no further than Dr. Alex at A E Skin. We offer a wide variety of cosmetic and medical dermatological services in comfortable surroundings with professional staff.
Botox is a cosmetic injectable, an FDA-approved purified protein, with several benefits. Botox is most widely known for its ability to temporarily reduce the appearance of fine lines and wrinkles by relaxing the muscles in the face and neck area.
At A E Skin, Dr. Alex is certified to administer cosmetic laser therapy, dermal fillers, and Botox treatments for residents of Encino, CA, and the surrounding areas. You will see him every time you visit our med spa for an appointment.
What to Expect During a Botox Treatment
Receiving Botox treatment is an easy process. At your first appointment, Dr. Alex will ask for a medical history and perform a facial analysis, including examining your skin and asking about your desired outcomes. If you are a good candidate without an contraindications, you will proceed with your Botox treatment.
To receive Botox, you will be asked to sit as comfortably as possible, and your facial area will be cleaned. The Botox will then be placed into several targeted facial muscles using fine needles. Dr. Alex will ask you to move your facial muscles so he can identify the correct muscles to inject for maximum impact. The whole process should not last longer than five minutes.
Dr. Alex has developed a painless Botox technique to make you comfortable. In the treatment room, you will see a relaxing video with gentle background music to make you comfortable. We blow cold air on your skin to numb the area and place a vibrating distractor called the Beauty Bar nearby. Dr. Alex uses the smallest needles possible so you'll hardly feel a thing.
What to Expect After a Botox Treatment
After your treatment, you will not see results immediately, and it will be 2 to 3 days before you start noticing a difference and approximately two weeks before you see the full effect. Most people enjoy the results of their Botox treatment for three to four months. At that time, Dr. Alex recommends a maintenance Botox treatment.
You can return to your routine the same day but avoid heat exposure, alcohol consumption, strenuous exercise, sunbathing, or sauna treatments for at least 24 hours. It is recommended that you do not rub or massage your face for at least three days after your treatment and that you avoid medications containing aspirin. Also be sure to remain upright for four hours after your Botox treatment without bending forward or lying flat. Avoid things like getting a massage, a dental appointment, or taking a nap where you'll be lying flat.
Dr. Alex will call you the day after your first Botox treatment to check in and answer any questions you may have. Although rare, if you do get a bruise you can return to our office for a free laser bruise treatment. The laser bruise treatment is fast and makes bruises go away faster.
Contact Us
Residents of Encino, CA, needing Botox treatments, make Dr. Alex at A E Skin your first choice for cosmetic skin solutions. Call us to book an appointment at (818) 835-1833 today.
Dr. Alex has performed over 10,000 cosmetic treatments with many satisfied patients. Contact us to schedule an appointment for a free consultation with Dr. Alex in our Encino, CA office.