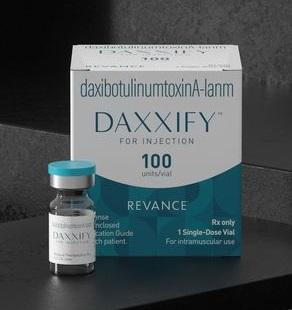 Did you hear about the newest alternative to Botox? It's called Daxify. Keep reading to learn more.
Botox is a purified protein used to treat wrinkles caused by facial expressions. Common areas where Botox is used include the frown lines between your eyebrows, horizontal forehead wrinkles, and crow's feet around your eyes. You'll see an improvement after a few days and you'll enjoy your results for three to four months.
What are the alternatives to Botox?
There are multiple alternatives to Botox that are available in the United States and many more around the world. They are different brands that have the same effect. It's like comparing Coke and Pepsi. Botox is the first product approved for treating wrinkles such as frown lines. Botox has the most approved uses and there have been more studies on Botox than any alternative. The first alternative to Botox that became available over ten years ago is Dysport. Shortly after, another one called Xeomin came out. Almost ten years after that Jeuveau became available about two years ago. And on September 7, 2022, the US Food and Drug Administration approved the newest Botox alternative called Daxxify to treat frown lines.
What is Daxxify?
Daxxify is the newest Botox alternative approved for frown lines. The active ingredient in Daxxify is the same protein that's found in Botox, Dysport, Xeomin, and Jeuveau. That's why it has the same effect. So what's the difference between Daxxify and the others? Botox is the original product. Dysport is known to spread more. Xeomin is the purest. And Jeuveau is most similar to Botox, but purified slightly differently. Daxxify is best known for its longevity. The studies found that half of people enjoy their results for at least six months. This makes Daxxify a nice option since you'll only need two treatments a year rather than three or four. However, a higher dose was used, which means the investment will likely be higher. What this means is that there will be more options available.
What is the difference between Daxxify and Botox?
One of the differences between Daxxify and Botox is the purification and manufacturing process. To stabilize the protein, other ingredients are added. In the case of Botox, another protein called albumin is added. Daxxify uses a peptide exchange technology, so it doesn't contain albumin. We will see if this makes a difference. The biggest difference is that the studies showed the Daxxify lasts about six months. However, a higher dose was used and it's logical that if you use more it will last longer. We see that people that use a lower than recommended dose of Botox don't enjoy their results for as long. And since Daxxify lasts longer using a higher dose, there are ongoing studies with the other products to see if using a higher dose will allow their results to last longer. Preliminary results are promising. Daxxify is made by Revance, the same company that distributes the new RHA fillers that are now available. This will allow Revance to create more promotions to combine Daxxify and fillers.
Dr. Alex has performed over 10,000 cosmetic treatments with many satisfied patients. Contact us to schedule an appointment for a free consultation with Dr. Alex in our Encino, CA office.